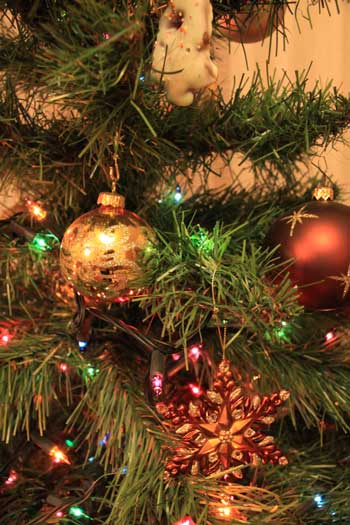 I love most things about Christmas, the family time together, planning Christmas meals and a few luxurious treats that we wouldn't normally eat and above all, the glitter, colour and light that Christmas brings into our homes.  I look forward to Christmas fayres, seeing the lights brightening dull grey streets during winter and Christmas decorations for sale in the shops. It is a treat therefore to visit Castleton in Derbyshire that gets dressed up for Christmas. Almost every shop and local business features a light bedecked Christmas tree, there are mince pies and Christmas nibbles in the tea shops and a festive air that is sometimes sadly lacking elsewhere. The preparations for Christmas add to the charm of the whole event.
I even like carol singers. I always used to give a pound to the Salvation Army brass bands who seem to appear near shopping centres before Christmas with a few cheerful carols. I was a little put out by the fact that the Salvation Army own acres of land at  Hadleigh Farm in Essex where the Olympic cycling events are to be held. I always thought that my pound was going to the homeless. I certainly did not intend to make the Salvation Army wealthy. Why is that land not sold to solve the problem of homelessness?  And yet, I am perfectly happy with paying the aristocratic owner of Chatsworth in Derbyshire lots of money to visit his beautifully decorated stately home around Christmas and have no expectations of him opening his home to those without. Not until now. In these times of recession and hardship, perhaps Chatsworth should host a Christmas party for those less fortunate in Derbyshire?
I am sure that there would be some criticism levelled at my promotion of holiday homes, for Christmas or otherwise. And yet, I am comfortable with that because many people have  a holiday home that is essentially their pension. Instead of paying into a pension pot, they put all their savings into a country cottage that they let for the income. I am all for people making every effort to fund themselves and their old age instead of relying on the state. Dealing with cottage owners on a daily basis, I have come across all types. Each rented country cottage is a business that can be a very small business when only one cottage is entailed or a very large business when there are tens of cottages. Perhaps not surprisingly, some of the most generous cottage owners are those who have just the one small cottage to rent for self catering holidays. The other surprising factor is that many people who let cottages actually enjoy what they do and try to ensure that their guests have a good time. Many will put up Christmas trees and decorate their cottages beautifully, with love, for the Christmas season to please their guests.  Do please write and tell us of cottage holidays that were magnificent at Christmas and of generous hosts.
The joy of Christmas all comes together when people give generously. We have an agreement in our family not to exchange presents with adult family members and friends unless they live alone. We buy gifts for children. This take most of the pressure off of Christmas because there is little rushing around buying and wrapping of gifts or spending more than we can afford. Much of Christmas giving is for the sake of it because it is the expected thing to do.  One friend of mine who liked to bake used to make every family related to her and friends a Christmas cake. Little personal touches are always appreciated. It is far better to give a gift with love than to exchange pointless stuff.
And if you do want to rent a large country cottage for a joint family Christmas, do take a look at some of the splendid country manors and mansions that can be hired. These may be affordable if everyone clubs together and all can then enjoy big log fires and charades in the drawing room.