Barn conversions can be an attractive option for self catering holidays.   If you simply love self catering properties with character then barn conversions could be just right for you.  By their very nature, self catering barn conversions are mainly found on farms.  Some though are in village settings.  Barn conversions very often come with attractive features such as exposed beams and oak floors.  Barn conversions are mainly older buildings which can be greatly appreciated if you are fascinated by history.   Usually found in rural settings, self catering barn conversions are usually best suited to those looking for country holidays.
If you have your heart set on a stay on a farm, then it's best to look specifically for a farm stay.  On some farms you even have the opportunity to visit the animals.  At some places you can get involved in feeding animals such as ducks, chickens and sheep.  Some farms even have more exotic animals such as alpacas or lamas.  And some even have ostriches!  Such animals and birds can be an absolute wonder to watch.  Children in particular can be enthralled by watching animals so farm holidays can be great settings for family self catering breaks.  Such holidays are usually well suited to those who have a passion for wildlife and nature.  And what better neighbours to have on a self catering holiday than cows or sheep?  If you just adore the idea of the sound of a cockerel waking you up in the morning then a self catering farm holiday could be right for you.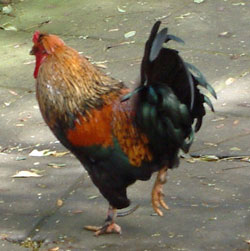 Cockerels can be fascinating farm animals.  A cockerel is the inspiration for the Country Cottages logo.  These birds can sometimes be brightly coloured and can be truly interesting to watch.  It can be quite entertaining to watch them puff themselves up and stomp around the hens.  We have some plans for our cockerel logo so do keep a look out on the Country Cottages website to see what our cockerel is up to!
If you have any suggestions or feedback about our cockerel then do let us know.  We love to receive great ideas and inspiration!