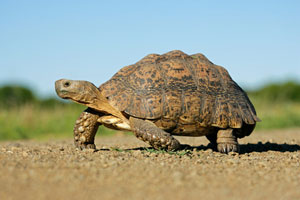 I love Greece; the scenery, Greek food, the endless sunshine and blue skies even during autumn and winter. On one such trip during late October when we went for a walk in the countryside close to our villa, the sun was shining, pomegranates were ripe on the trees and all was well with the world. You know how it is when you're out walking on holiday, there is unlimited time to stop and stare at something of interest, a donkey in a field (lots of them in Greece), chickens scrabbling at the side of the road or an unusual flowering shrub. We were walking and chatting as we walked when I noticed a man on the road ahead of us pick up a tortoise that was foolhardy enough to cross it. He then placed this tortoise upside down in a carrier bag.
My immediate reaction was 'poor tortoise'.  How dare he! I scuttled up the road and whilst the guy had his back turned to me, stole his tortoise and ran away with it. He must have spotted me out of the corner of his eye and proceeded to shout at me in Greek.  I just shouted 'no, no' back at hime because at that precise moment I didn't have time to translate into Greek. Realising that I was English he then began berating me in English. Fortunately I was with two rather large men ( my husband and son-in-law) so he gave up the chase.
We set the tortoise free in some rough ground, that would give it cover, a little way later and hoped that it would keep to the rough ground and not venture back on the road. My conscience kicked in a little later when I realised that I had taken away someone's free lunch. This was before the days of economical hardship in Greece. Greece is desperate for tourists money in 2012. It remains one of the most beautiful countries to visit around the Meditteranean.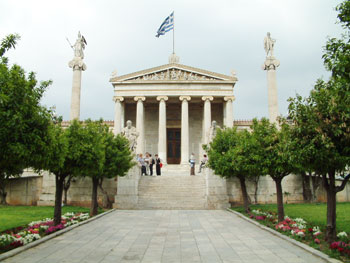 The city of Athens is worth visiting for the ancient antiquities, the Acropolis and numerous other temples dotted across the city. Plaka is a district of Athens with good night life and lots of small tavernas serving up kebabs, tzatziki, Greek salads galore and mountains of Feta cheese and olives. It is the place to be in the evenings. See villas to rent for holidays in Greece.
A large number of Brits and Germans have become grecophiles and retired to Greece. Tourism has flourished in the various Greek islands and they still remain holiday destinations with fabulous uncrowded beaches.
The Greek mainland offers swathes of golden sandy beach and some real treasures. If you have limited time on holiday in Greece and like all the classical stuff about the ancient Greek gods, I would suggest that you make the journey to Delphi which is about 2 hour's drive from Athens. Meteora in central Greece is a magical place featuring Greek Byzantine monasteries on top of sheer rock pillars. Nafplion is a coastal town of great charm and oozes history. Visit some of the beaches along the coast just to see the striking colours of succulent flowering plants on the rocks and sand.
Be aware that staying in Greece could be the beginning of a lengthy love affair and every year you will want to see more.