Not only has the weather finally began to pick up over the last few days, but with the biggest golfing event of the year having concluded over the weekend and the PGA championships taking place next month, it seemed the ideal time to take a look at some of the best golf courses that Scotland (home of the 2016 Open) has available to holidaymakers. Golf, and a whole other host of outdoor sporting activities, is an important part of many holidaymakers' plans. The courses available in an area can influence where you end up on holiday. Like with many outdoors activities, golf is largely reliant on the sun showing up and the rain not rearing its head. Now the weather appears to be improving, golf players planning a holiday with Country Cottages Online can begin to be more enthusiastic! To help with this decision, we have listed just a few of the best golf courses you can find when choosing luxury self-catering accommodation in Scotland. Scotland has over 500 courses on offer, narrowing these down to just a few is a difficult task. We have chosen just a handful of these to give you an idea of what's available to those visiting this summer.
St Andrews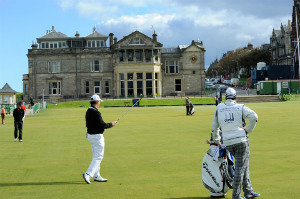 Perhaps the most famous golf course in the country and the whole of the United Kingdom (if not the world), St Andrews is regarded by many as the home of golf. However, successfully booking a tee time for the course is, to say the least, a challenge. Much like hitting a hole-in-one, securing a round of golf at St Andrews can be a hit and hope job! It is certainly worth enquiring because, should you be lucky enough to get a time (booking way in advance is advisable), then you will be in for a truly unforgettable and special day. The course is worth a visit in itself because of its rich history and the surrounding scenery. The British Golf Museum is also on-site and- with reasonably priced entry, interesting artefacts and a wealth information- is well worth a visit.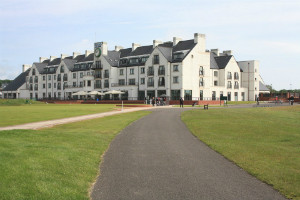 Carnoustie Golf Links
Just under an hour's drive from St Andrews, Carnoustie Golf Links is considered by many golfers to be one of the most technically challenging courses around. As well as being a true test of skill the course is also renowned for being one of the fairest courses on offer and has played host too many prestigious events over the years. The area offers three courses for public use that can be booked online or by phone.
Fortrose and Rosemarkie Golf Club
Aside from the more well-known and prestigious gold courses in Scotland, there are many courses in the country that are regarded as hidden gems because, despite their quality and excellence, they remain less well known abroad. One such course would be The Fortrose and Rosemarkie course near Inverness. The course lies on stunning landscapes that stretch out from the clubhouse to a lighthouse situated at the far end of the beautiful coast line and offers up dramatic views of the ocean surrounding Canonry Ness. For spectacle and setting, this 18-hole course is second-to-none.
Ballachulish/ Dragon's Tooth Golf Course
Like Fortrose and Rosemarkie, the Dragon's Tooth course is perhaps less-well known than other more typical Scottish courses, but it too has a lot of charm and character that make it a great place for a round of golf. Owing to its status as a hidden gem, booking a suitable tee time can be a far less strenuous experience, in itself making it an attractive choice. However, it is the attractive scenery here that makes Ballachulish /Dragon's Tooth Golf Course so exceptional. The course offers a comfortable 9 holes situated within the breath-taking highland peaks and just next to the Loch Linnhe. Behind the course the Dragon's Tooth Craig can be seen and helps to make the course a special place in a wonderful setting.
The courses we have selected are one's that stood out to as exceptional for a variety of reasons but are not intended to be definitive or comprehensive list, they simply aim to highlight the diversity and magnificence of the vast selection available throughout Scotland to Country Cottages Online holidaymakers. The courses chosen are ideal for tourists who want to soak in the sunshine and take advantage of the stunning settings and surroundings that these courses are found in. Like with our luxurious self-catering listings, there is a massive selection available to cater to all needs and wants, so there is something for everyone.