A fellow passenger on a flight recently told me that he never ever ate at any hotel he was staying in, not even breakfast. By forcing himself to go out to eat, he got to meet the local people and find out a little more about his destination. This guy had obviously never heard of self catering accommodation because why pay hotel rates for a single cramped room when you can have a whole suite of rooms and the comfort of home for the same price or less?
Most holiday cottages are equipped with not only a TV but also a music player of some kind, books, magazines and very good tea making facilities as part of the kitchen. There will be a refrigerator, microwave and cooker. Some cottage owners even offer reductions for low occupancy.
For people who know and appreciate good food, self catering is a marvellous thing. Lots of cottage are in rural areas with farmet's markets where it is possible to puchase scrumptious fresh food. Eggs from organic farms actually taste different, real home-baked bread is a treat in itself, add some farm fresh butter and breakfast becomes something to be truly savoured.  It is also possible to puchase a wide range of  cakes, cooked pies, both sweet and savoury, chutneys and pickles, wonderful cheeses and organic bacon and meat. Cooking when self catering does not have to be a chore, simple meals put together using the finest ingredients are so much nicer than a mediocre meal down at the local eatery.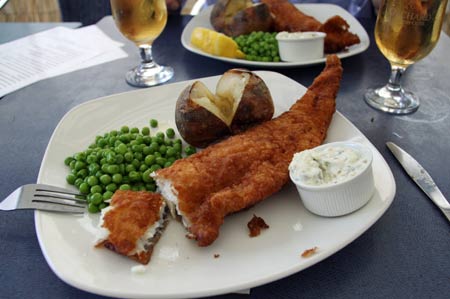 It pays to discuss local food with the owner of the cottage you're thinking of renting to find out about farmer's markets, good delicatessens, restaurants they can personally recommend and any gourmet food delivery services.  If you are anything like me, your mind will retain a record of the foods you have especially enjoyed on various holidays.
Scotland I always associate with raspberries – they are the finest in the country.
Glasgow has a wide selection of ethic restaurants. I still recall eating the best Biryani in a Glaswegian Indian restaurant and a fabulous meal in an Italian restaurant.
There are some excellent farmer's markets in Suffolk that sell fluffy loaves of bread enriched with apricot and walnut and pork pies with a pickle topping.
Cornwall has to take pride of place in fish dishes and seafood, fish is on the menu all around the coast and in some places once can sit and watch the boats come in. Cadgwith in Cornwall is one such special small coastal village location. There is a restaurant plus a fresh fish shop where you could purchase fish, crabs and seafood to take back to your holiday cottage to cook.
Eating out in the Midlands is remarkably inexpensive and a good place for a family break visiting Alton Towers and the Peak District.
All the doom and gloom merchants are predicting tougher economic times ahead. This has one of two effects on people, either they decide to visit aunt Sal in north Wales next year or to go out and 'splash the cash' whilst they can.  One of the most economical family holidays are in country cottages. The quality of the accommodation may depend on how much you pay but I would strongly urge you to find out about the food in your proposed destination because although I could list just about every lovely meal I have eaten on holiday, I could not tell you a thing about the colour of any carpet, the curtains or whether the pillows were plump or not.
Know yourself and book a self catering holiday based around the things that give you pleasure.