January is never a good month for cheer which may be one reason why people consider the year ahead and plan their holidays.  The anticipation of those weeks or days away helps us get through some cold grey days. Mind you, the weather recently has been most unseasonal, very mild with more clear blue skies than we're used to. Today was almost a spring day with the sun shining and there are signs of life in bulbs emerging from the ground. I even spotted mushrooms growing on a grass verge. Now that is nature in confusion.  Each and every year without fail as far as I can recall snow falls on daffodils in March. It will be interesting to see whether this year defies the trend.
I too was thinking about holidays for 2012. I am planning to visit the Lake District and Isle of Wight for working holidays, taking photographs and carrying out research for new web sites. Do please recommend beautiful places to visit in both these locations.  Holiday literature from various companies is landing on the doormat on a daily basis. Today's offering included a cruise brochure which I looked at and discarded. I guess I'm just not the type of person to enjoy the confines of a cruise liner and all those organised activities. The excursions off the boat don't attract me either, the time to look around is too limited. And the prices ….  who on Earth pays that kind of money for a holiday?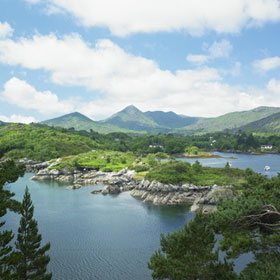 I was however, smitten by the area south west of Skibbereen in County Cork. I have recently been working on a web site about Ireland and having read about the chance of whale watching, spotting dolphins and seals in their natural habitat off the coast of Ireland, plus the chance to see puffins and thousands of nesting birds, makes a cottage holiday in County Cork most appealing. Kinsale in County Cork has a gourmet food reputation which doubles its chances of a visit.  I have this notion of visiting the small islands off the coast of County Cork to see the wildlife and wild flowers. Each is a unique nature reserve in its own right.
I am taking the grandchildren for a break to a well-known holiday camp because the children enjoy it and their parents would consider it much too down-market for them to go.  There are still a lot of gaps to fill in. I know that I am very fortunate in being able to holiday frequently, time permitting.  Cheap holidays are difficult to come by. I find myself frequently recommending Eastern Europe because it offers such good value. take a look at a self catering break in Hungary or the Czech Republic, both of which are a mere 2 hour flights away.  Both these countries have beautiful countryside and interesting cities to visit.
I adore Greece, the Euro has unfortunately made it affordable only for the wealthy who do not mind paying 5 Euros for a coffee or ice cream. A villa rental in Greece at least helps defray the cost because you can restrict eating to your holiday home and take picnics when sightseeing. I recall visiting Delphi on a hot day at the end of May and the only restaurant there sold 'slush puppies' for children at about £3 per glass. It would be less objectionable if it was real fruit juice rather than a chemical concoction.
For anyone with a little cash to spare, there are current discounts with our favourite orange budget airline that can take you to Europe's ski slopes.  Rent a ski chalet for fun in the snow with your family this half term. There is still availability at the following ski chalets in Europe where you can have a comfortable stay and ski, snowboard or just go sledging for fun.