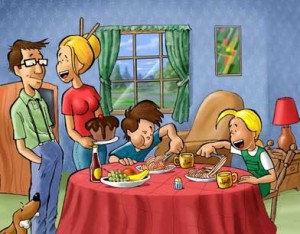 Family holidays can be an endless whine of  'I want' or 'I'm hungry'.
Taking children on holiday involves constantly supplying them with endless drinks, meals, snacks,  ice cream and other treats.  The costs add up considerably if eating out and this is where self catering helps make holidays that bit more affordable because you can select where to eat. You could prepare and eat all meals at your holiday home if you wish. With toddlers and babies this is most desirable. Who wants to hunt for highchairs and bottle warmers in eateries?
Prepare picnics in your own kitchen to take out for the day. Children enjoy picnics anyway and they can contribute ideas and effort to their success.
By self catering, children have unlimited drinks at their holiday home, there is no corkage payable of wine with meals and everyone is happy.
Rent a holiday cottage or villa with amenities and you can use a dishwasher to make cleaning up after meals easy.
Most holiday cottages and villas have basic essentials such washing machines, some have tumble dryers or a drying room. Families need this to wash and dry after a day at the beach. Children are endlessly messy and unless you plan to use a hotel laundry service, you would otherwise take suitcases full of dirty laundry home.
Almost every villa or self catering accommodation abroad or holiday cottage in the UK is family friendly with a few exceptions.
There is no time keeping involved apart from on the day of departure, otherwise you are as free as a bird to come and go as you wish.
You will be expected to leave your accommodation in a clean and tidy condition. Some holiday owners offer the option of paying for a full clean if you would prefer for someone else to do this for you or it may be part of the deal. Read the terms and conditions carefully and email the property owner to ask about the end of stay clean. Almost every property owner takes a potentially refundable damage deposit and part of this may be used for cleaning where they consider the property is excessively dirty or carpets have been soiled.  Holiday accommodation owners use the damage deposit as a temporary insurance and to encourage guests to take care of their property. Get your facts up front and there shouldn't be any nasty surprises at the end.