Want to go somewhere unique and different for your self-catering holiday this year? With trips to Mars not yet available for vacations, this article on Out of the World destinations focuses on places to holiday which should make you feel almost as if you have left Earth and gone to some other place.
Why not discover a fascinating and truly different landscape on your next holiday? Here's our Top 5 Choices of Other Worldly Type destinations, all of which can be reached without a spaceship, although an airplane journey may well be needed!
1.    Cappadocia
If you want to visit a place that will leave you open mouthed and staring in wonder then Cappadocia in Turkey has to be one of the very best. With fairy towers, a UNESCO heritage site at Goreme National Park and stunning valleys of caves and weird rock formations, Cappadocia has a fascinating other worldly quality. Discover villages that were carved out of the weird and wonderfully shaped rocks as well as amazing underground towns and churches where you can still see beautiful religious frescoes on the walls.  If the stunning unique Cappadocian landscape doesn't make you feel like you are in another world, a balloon flight over the stunning valleys surely will.
Find holiday homes for a break in Cappadocia.
2. The Grand Canyon
One of the most famous and other worldly destinations on earth, a visit to the USA's Grand Canyon must be on the bucket list of many. Definitely a place to take your camera, the Grand Canyon is a national park and with a stunning canyon that looks like something you might find on Mars, this is a memorable place to visit.
3.    Meteora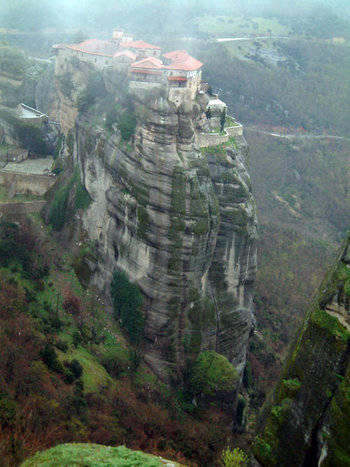 It's easy to see why Meteora in Greece was featured in a Bond film when you take a look at the photos. With pillaring rock formations that reach dizzying heights and stand out in the landscape, Meteora is a very special and striking place.  Making the area even more interesting are the many monasteries built in to the weird and wonderful rock formations, some of which you can visit. The winding steep tunnels that have been dug out of the rock, leave a memorable impression of monks literally building their own castles in the sky.
Find holiday accommodation in Meteora.
4.    Limestone Pavement at Malham Cove
A hike to visit, the exertion of reaching this fascinating part of the Yorkshire Dales National Park is worth it when you reach the top and see the limestone pavement. This area captures the imagination and is like nothing you have ever seen. You can freely walk across it but beware the edge, there is no barrier and the drop is jaw dropping. Don't forget your camera when visiting this unmissable place in the Yorkshire Dales.
Find a Yorkshire Dales Holiday Cottage and visit this amazing place on a day out.
5.    Iceland
With geysers, hot springs and a landscape that in parts looks like something out of Star Trek, Iceland is renowned for being a unique and fascinating place to visit with a stunning unusual landscape. Discover natural wonders and plenty of relaxation experiences on a self-catering holiday in Iceland.
What's more, stay in Iceland between the months of September and April and if you are lucky you may see the magical and spectacular lights of the Aurora Borealis.