With the arrival of Spring and the promise of summer just around the corner it's time to start thinking about places to go and things to see in summer 2015.
You may well be planning to stay in a hotel near the beach somewhere abroad for a week or two but why not treat yourself to a short break or two in the UK and enjoy a fun-filled break with family or friends.  You will not only save money on expensive hotel rooms and flights but you will also all be able to stay under one roof where you can enjoy each others company in your very own home from home surroundings. Here is a list of our very best inspirational places to discover in summer 2015:
1.    York Minster
You are sure to be inspired when visiting the York Minister in this beautiful city. Dating back to medieval times, the cathedral is the seat of the Archbishop of York and features some truly spectacular gothic architecture. Other highlights of the city include York Castle and the Yorkshire Museum, where you can learn all there is to know about this picturesque part of the UK. Find a place to stay in or near York.
2.    Stonehenge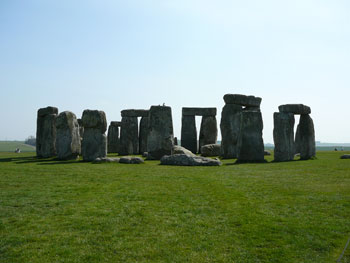 This prehistoric monument located in Wiltshire in the South West of England is sure to make you think and ask questions like "who built it?" and "why did they build it?" Believed to have been built somewhere between 3000 BC and 2000 BC, Stonehenge is a UNESCO World Heritage Site and continues to puzzle archaeologists to this very day. Rent a cottage near Stonehenge and see this magical and mysterious sight through your very own eyes. Both young and old are sure to a trip to the world-famous Stonehenge.
3.    Bronte Country
The second Yorkshire-based inspirational place on our list, Bronte Country is the name given to an area of South Pennine hills in the west of the county. Named after the famous Bronte sisters, this rugged part of the country is where Charlotte, Emily and Anne wrote many of their renowned works. The literary classic Wuthering Heights is said to be one of the sisters' best works and Top Withens, a building in the village of Haworth, is believed to have been the inspiration for where the novel is set. If this part of Yorkshire was enough to inspire the Bronte Sisters to write some of the best books ever written, then it is sure to inspire you. Have a look at our selection of l cottages in West Yorkshire and treat yourself to a historical trip of a lifetime.
4.    The Lake District
Visiting any National Park is sure to inspire you but there is something about walking through the Lake District that is that extra bit special. Famous for its association with 19th century poets such as William Wordsworth, the Lakes (as they are affectionately known) are located in the county of Cumbria and the area is home to many forests and fells (mountains), as well as of course lakes. Going for peaceful strolls with your family is the perfect way of relaxing on your holiday in the Lake District whereas a strenuous hike up Scafell Pike is great for those with a bit of extra energy. The views from the summit of the Pike are truly spectacular with sights such as the Mourne Mountains in Northern Ireland and Snowdonia in Wales on offer. Find a Lake District cottage and simply sit back and soak in your environment. There are very few places in the world that are as inspirational.
If none of these destinations are to your taste, then why not have a look at our website and find somewhere inspirational that suits you best. Whether it is a holiday to the Giant's Causeway in Northern Ireland, a trip to the Fairy Pools on the Isle of Skye in Glen Brittle, Scotland or a historical adventure to Shakespeare Country in Stratford-upon-Avon, you are sure to find a place in the UK or Ireland that really makes you think.