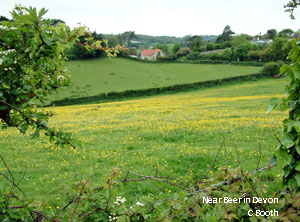 One thing about being in the countryside, preferably with no TV (sacreligious statement I know) is the complete escape from news (always depressing), telesales people trying to sell me solar panels and other things I do not want, and the requests from children and relatives. It is amazing how much time a week or two in the country with no TV frees up and that lovely feeling of having no stress whatsover.
Yes, I can hear some of you say  'it's escapism', being a 'rural ostrich'. Well, I thoroughly agree and think everyone should try it occasionally. Leave the laptop and mobile phone at home and just go somewhere rural to see life completely differently.  We really do not need to be surrounded with instant messaging and information every waking minute of our lives. The world goes on irrespective.
Retreats were popular on the 60s and 70s. Most were connected with a religious group or quasi-spiritual body. That really is not necessary.  The feeling of well being comes from eliminating stressful stimulation and replacing it with beauty; beautiful scenery, beautiful flowers and something positive and good to focus on. Go climb a hill and find satisfaction in marvelling at the view at the top. Sleep well in your bed at night with nothing to disturb the peace. Top up essential supplies  at the village general store and discover that people still chat, have time for each other and do not behave as if the world was about to end.
You will discover that you have time for  reading  a novel, for thinking and to just watch the flames dart over logs in your cottage fireplace.
A cottage holiday in the country can be a life changing experience.